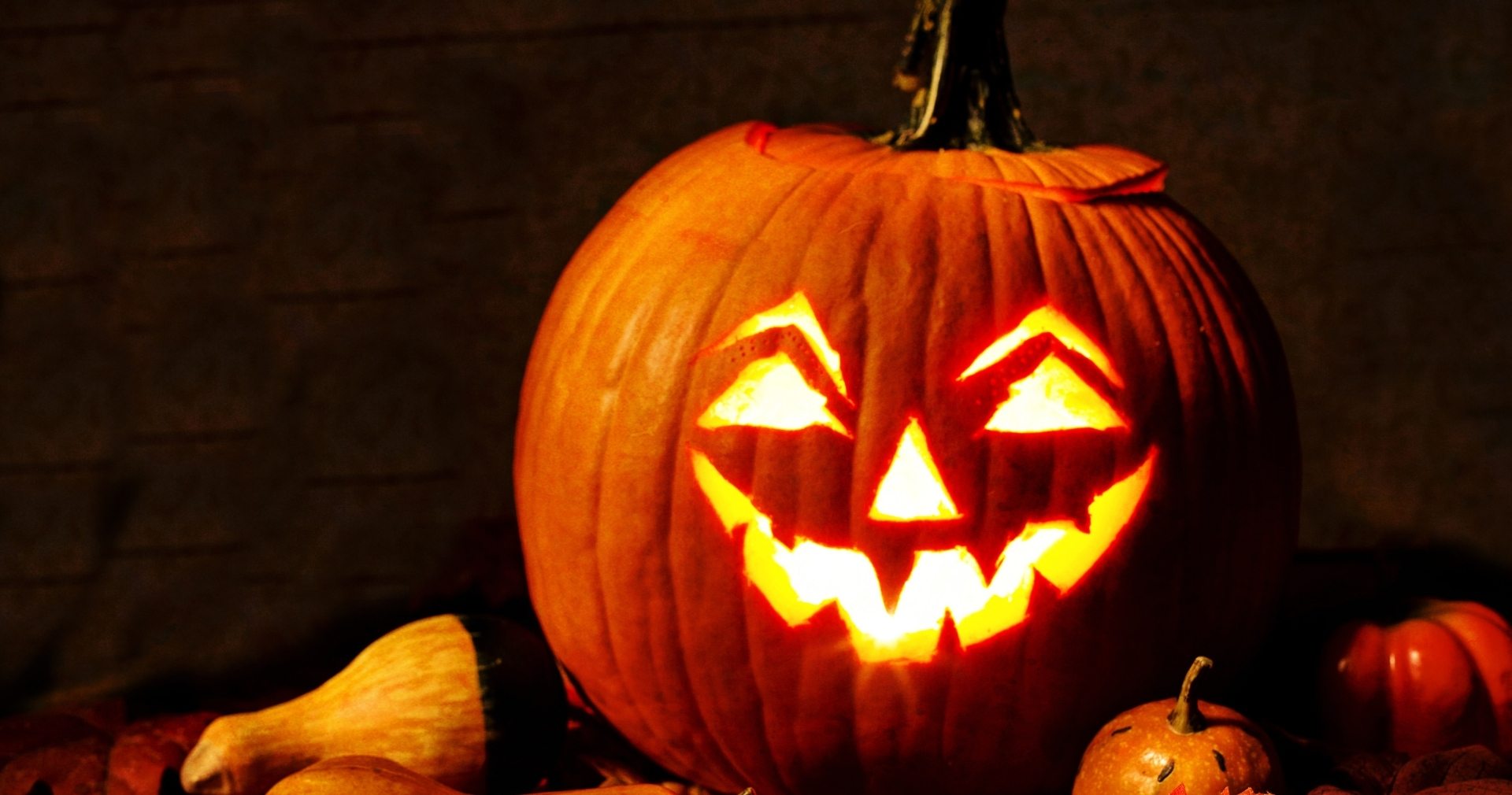 This year is pretty different from past Halloweens. For a couple of years we had some bad snow storms, some years it was oddly warm out. We have even had creepy clown sightings! None of that compares to Halloween this year. This year we have to make sure to social distance to keep everyone safe. It is a great idea to keep the CDC's guidelines for Halloween in mind. Although, this doesn't mean that there can't be any Halloween fun! There are so many crafts, spooky foods and treats, and activities that can be made or done while social distancing.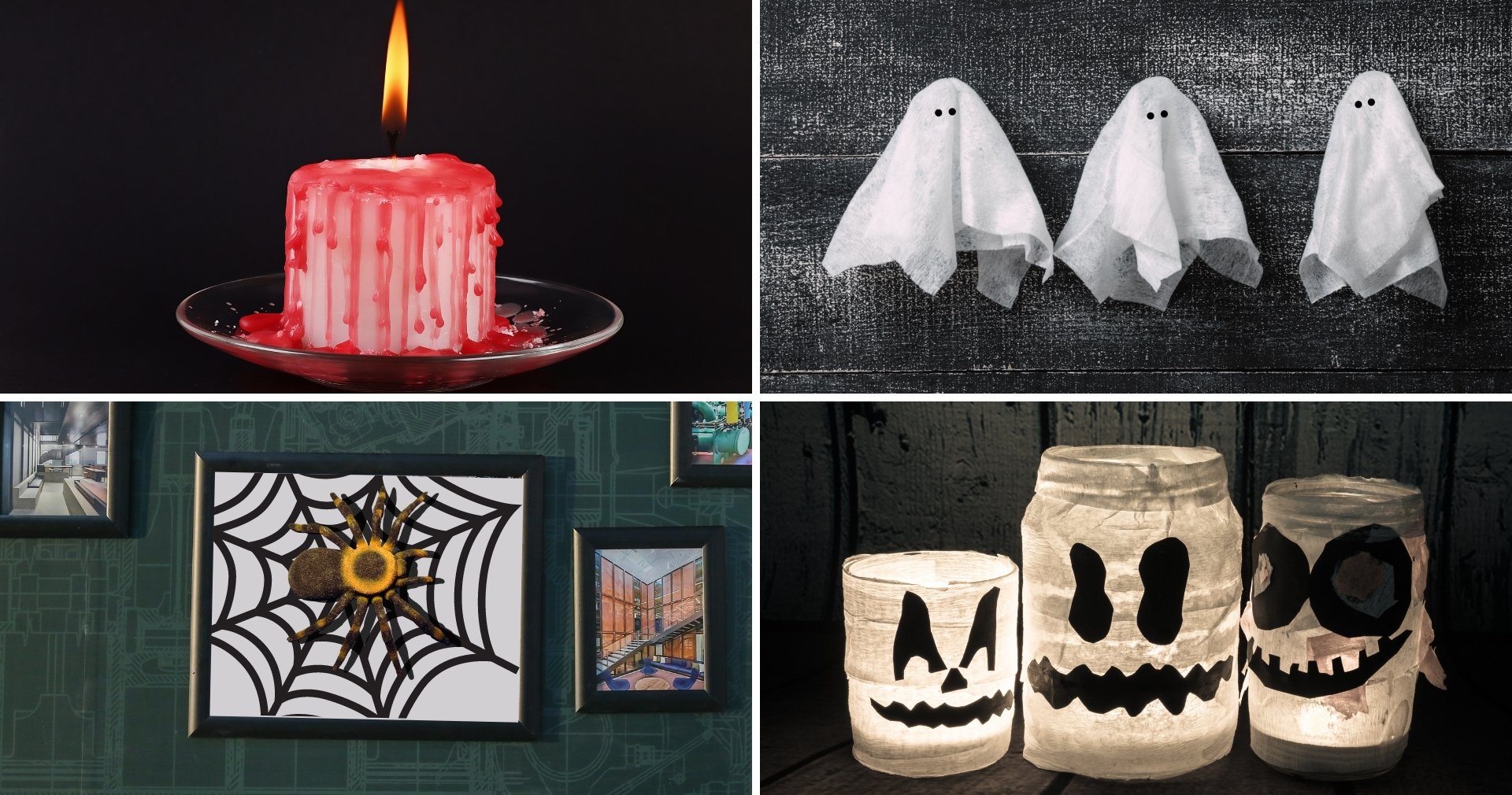 Halloween Crafts
There are many Halloween crafts that will bring the eerie Halloween aesthetic into your home.
1. Giant Spiderweb
Making a giant spiderweb isn't as hard as it sounds. All you need is some yarn and tape. Find the steps here.
2. Bleeding Candles
For this craft, a white candle and a red crayon are needed. All you will need to do is melt the red crayon onto the white candle to make it look as if it is bleeding.
3. Ghost Candles
To create this craft you will need a mason jar, a tealight candle, toilet paper, black paper, scissors, and some glue or tape. First, wrap the mason jar with toilet paper and glue or tape it in place. Next cut a face out of the black paper and glue/tape it in place on the toilet paper-wrapped jar. The final step is to place the tealight candle into the jar and light it!
4. Halloween Pins
These involve a little more than the past crafts. You will need oven-bake clay, mini googly eyes, a hot glue gun, Halloween cookie cutters, a rolling pin or smooth glass jar, and plain hair clips or brooch pins. The first step is to roll out the clay and use the cookie cutters. Next is to follow the oven-bake clay instructions. Once they are done, glue the googly eyes to one side and brooch pin or hair clip to the other side. Find more detailed steps here.
5. Melted Crayon Pumpkin
This craft will need a pumpkin (a white pumpkin will work best), crayons, a hair dryer or heat gun, and clear tacky glue. First, take the paper off of the crayons and then glue them to the top of the pumpkin. Next use the hair dryer or heat gun to melt the crayons onto the pumpkin. While melting the crayons, it is a good idea to try to melt them at different angles, so the wax isn't melting in a single straight line. Allow the wax to cool and set. More crayons can be added on top if needed!
6. Framed Spider
For this project, a picture frame, plastic spider, crafts glue or hot glue, and web-patterned paper are needed. First, remove the glass from the picture frame. The glass isn't needed, so it could be thrown away or used for another craft. Then glue the web-patterned paper that is cut to size into the frame. If you don't have web-patterned paper, you can always print a web pattern or draw a web pattern. Decorative stripes can be added to the spider with crafts glue. Finally, glue the spider onto the paper.
7. Ghostly Welcome
Welcome your trick-or-treaters with some floating ghosts. To make a floating ghost, you will need a white plastic bowl with a hole drilled into the bottom center, twine or fishing line, duct tape, black felt, hot glue, and white cotton cloth. First, use the twine or fishing line to string through the white plastic bowl and hold it in place with duct tape. Next cut a hole in the center of the white cotton cloth and put the cloth over the plastic bowl with the twine or fishing wire. Finally, cut out facial features from the black felt, hot glue them onto the white cloth, and hang them by your front door.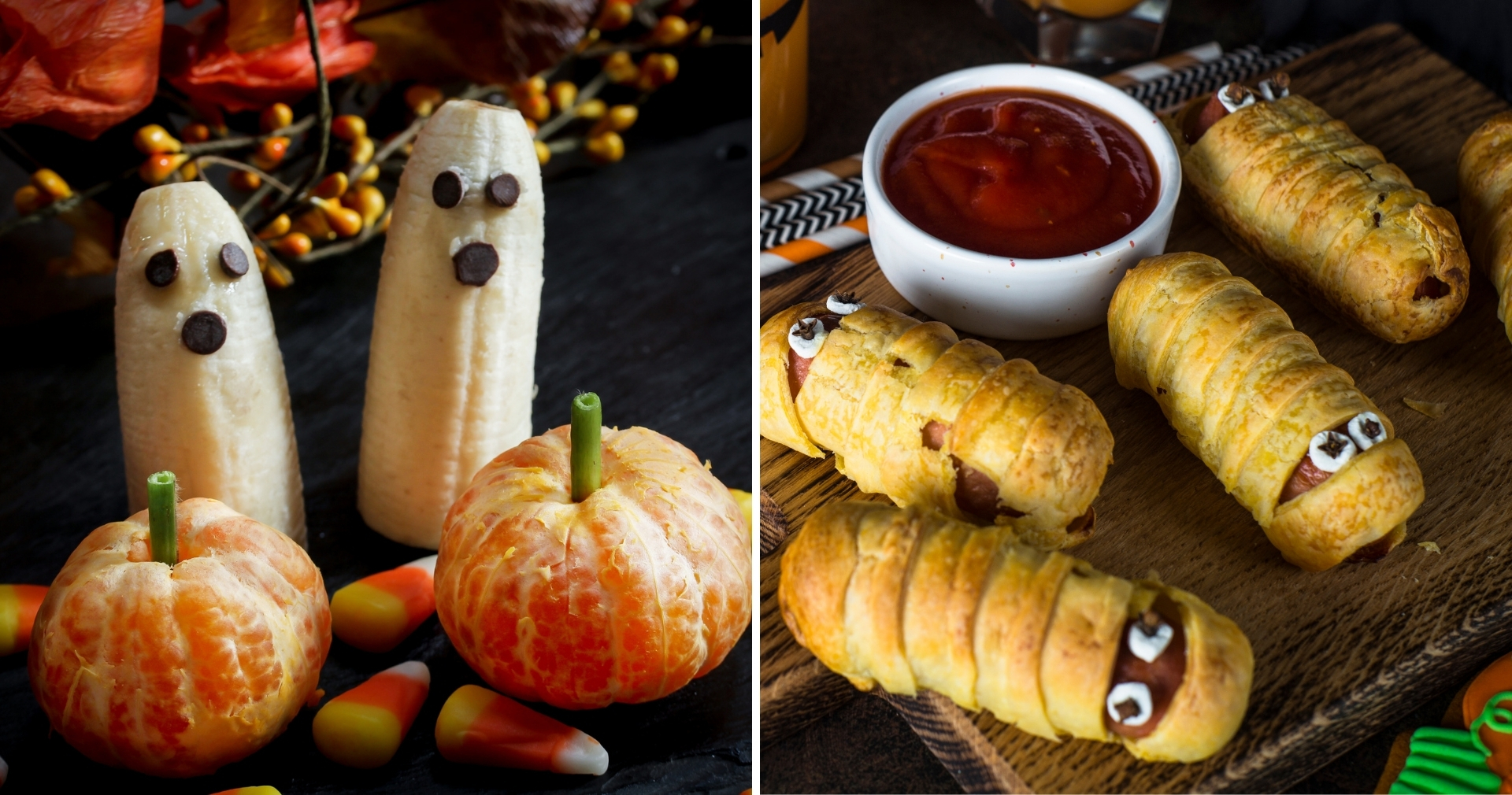 Halloween Snacks
1. Spider Lollipops
For each "spider," you will need one lollipop, two pipe cleaners cut in half, two googly eyes, and some glue. First, you will wrap the four pieces of pipe cleaners around the lollipop tightly. Next, separate the "legs" and bend the ends of them for the "feet." Finally, glue the googly eyes on!
2. Mummy Dogs
These mummy dogs are sure to be a hit. The ingredients needed are a package of refrigerated breadstick dough, a pack of hot dogs, and capers. The hot dogs get wrapped in the breadstick dough with two capers pushed into the dough for the eyes. Finally, they cook for about 12 minutes at 375 °F or until golden brown.
3. Strawberry Ghosts
For these ghosts, you'll need fresh strawberries, white baking chocolate, and miniature semisweet chocolate chips. First, melt the white chocolate, dip the strawberries into it, set them onto a baking sheet lined with wax paper, and put them in the freezer for about 5 minutes. Next, take the ghosts out and stick two mini semisweet chocolate chips onto each strawberry. Finally, melt the leftover chocolate chips and use a toothpick to draw a mouth on each strawberry. Now you have some spooky berries.
5. Graveyard Taco Dip
This five-layer dip will make zombies rise from the dead. The first layer is a can of refried beans. The second layer is a mixture of two cups of sour cream and one pack of taco seasoning. The third layer is a mixture of two mashed avocados, one clove of minced garlic, and two tablespoons of mayonnaise. The fourth layer is one cup of salsa and the fifth layer is one bunch of chopped scallions. The final step is to make the tombstones and trees out of tortillas. Cut out tombstones and trees and throw them in the oven on a parchment paper-lined baking sheet at 350 °F or until they are nice and brown. Throw the tombstones and trees in the dip right before serving.
6. Pumpkins (clementines with apple slices)
This one is a simple and healthy Halloween snack. All you need are clementines and celery. First, peel the clementines and cut the celery into small pieces about 2 inches long. Then put the celery into the top of the clementine making a clementine.
7. Monster Popcorn
First, pop your popcorn and pour it into a large bowl. Melt some candy melts in the color of your choice. Green is a great one to use to make it look more monstrous. Once they are melted, mix them in with the popcorn. The last step is the fun part. Mix in eyeball sprinkles, regular colorful sprinkles, maybe some eyeball gummies, and anything else that would add a creep factor.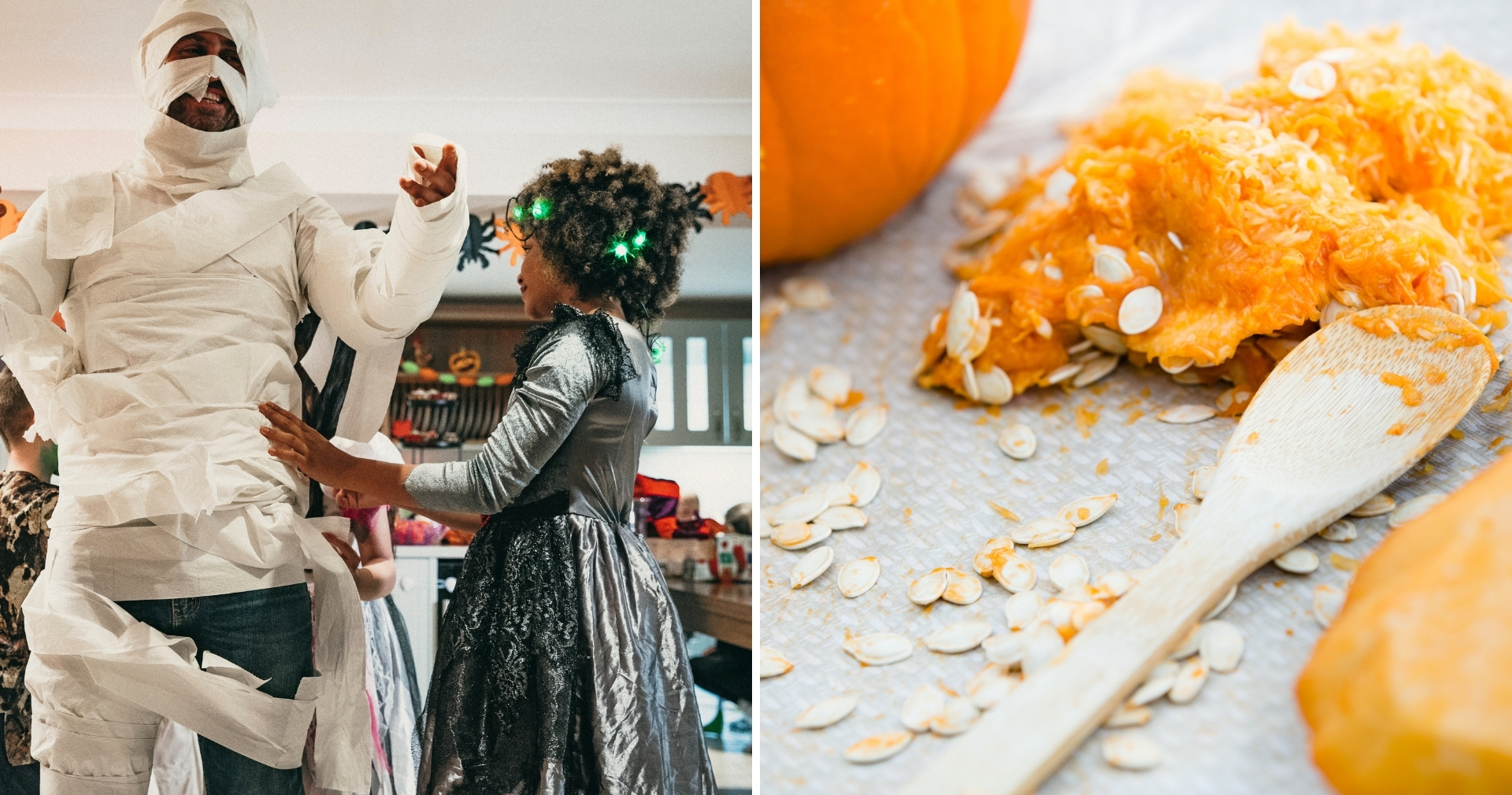 Activities
1. Virtual Pumpkin Carving Contest
Plan a time with friends and/or family to virtually carve pumpkins together. It can be done through Zoom, Voxtandum, Skype, etc. Once the pumpkins are done, everyone can vote for which pumpkin is the best.
2. Pumpkin Darts
Blow up a bunch of small orange balloons onto a wooden board outside. Whoever pops the most balloons wins!
3. Family Mummy Night
Your kids will love family mummy night! All that is needed is toilet paper. Wrap each other head to toe in toilet paper until everyone is a walking mummy.
4. Family Halloween Movie Night
There are so many great family Halloween movies! Here is a list of some great Halloween movies: Hocus Pocus, Halloweentown, The Addams Family, Twitches, Hotel Transylvania, Casper, Super Monsters Save Halloween, It's the Great Pumpkin Charlie Brown, The Haunted Mansion, and The Nightmare Before Christmas.