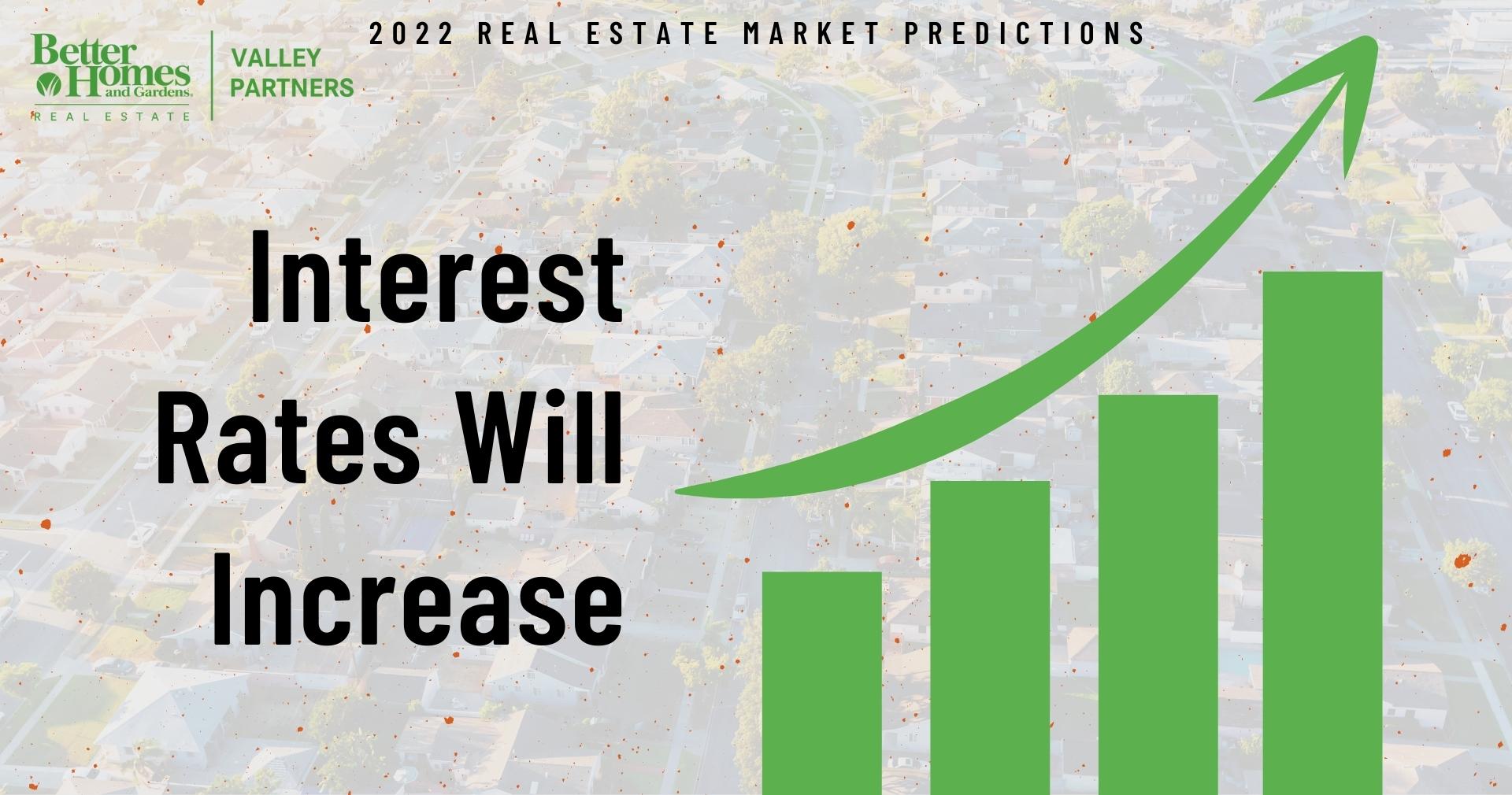 It is 2022 already?!?! This Real Estate Market has been crazy. With the major changes in everyone's lives, many potential Sellers are no longer looking to sell their homes. There are also many Buyers that have already hunkered down rather than overpay, says Will Nesbitt. In other cases, there are Homeowners in more populated areas that want to move into a suburb. Especially now that they no longer need to live near their office. So, what will the 2022 Real Estate Market look like? The bigest factor right now is: When will inventory grow?
Interest Rates
The high demand for homes is because of interest rates hitting an all-time low in 2020 and them continuing to be low throughout 2021 as well. Interest rates are predicted to increase by at least two-quarter points throughout 2022. When interest rates increase, fewer Buyers are able to look for homes which means lower demand. CJ Sabo predicts that later in 2022, the market will level out as interest rates rise. That rise could slightly help with inventory based on the market in 2018. Demand calmed down in 2018 when the interest rates rose about 1%. Although interest rates will rise and demand might calm down slightly, inventory will continue to be an issue throughout 2022. This because of the number of people who are still looking and the number of first-time homebuyers that are ready to buy.
There are about 45 million millennials nationwide that are ready to buy their first home. Along with those first-time homebuyers, there are many people mindfully reassessing their current home and are wanting a home that better accommodates their needs for working remotely or having family over, says Patricia Wright. Coming up to the end of 2021, there are record-low levels of inventory which is not a good sign for inventory levels in 2022. Normally, the year ends with around 1 million single-family homes for sale nationwide. Currently, there are just under 300,000 single-family homes for sale nationwide.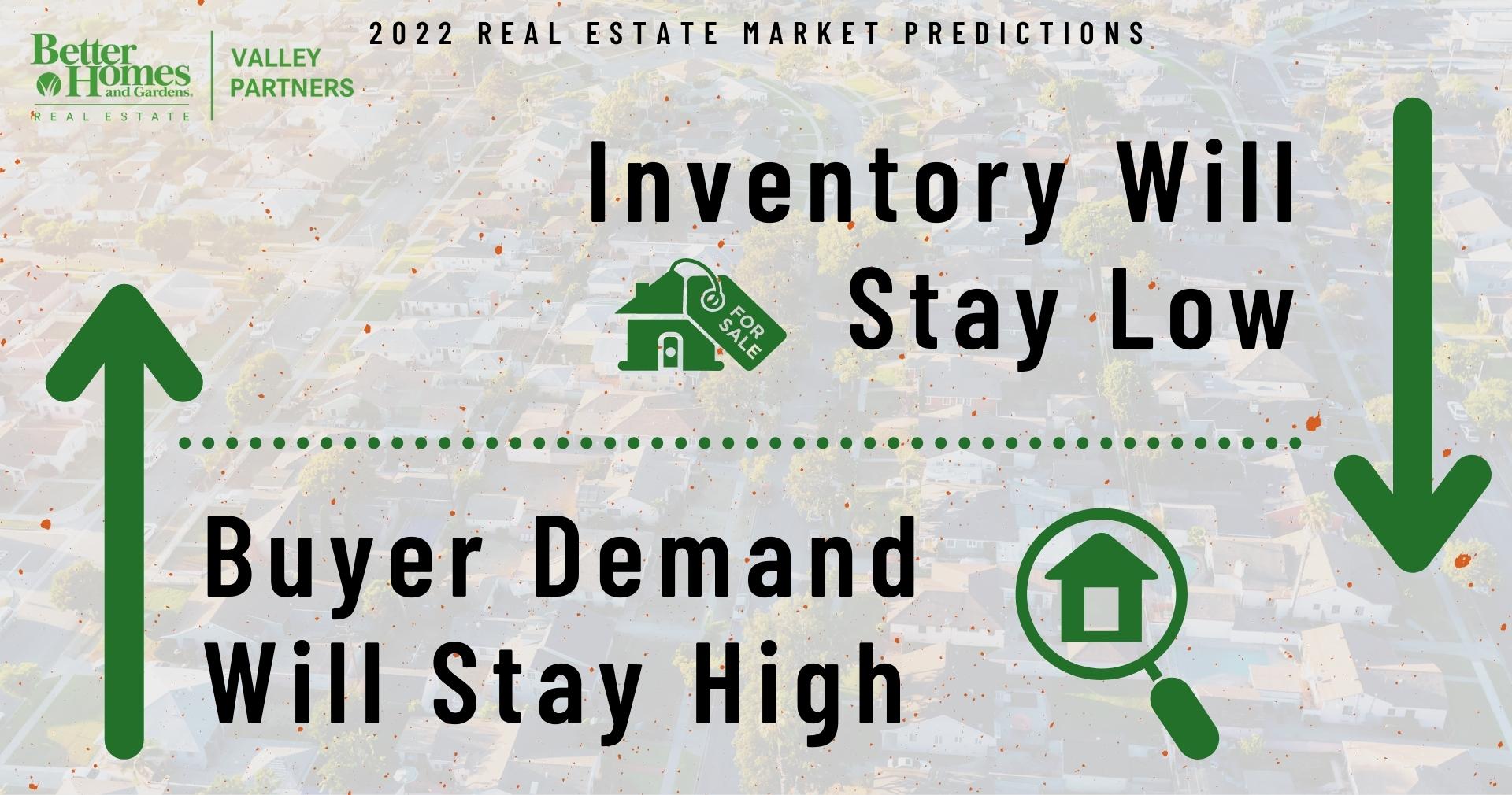 Inventory and Buyer Demand
One factor that has the potential to increase inventory is the end of the mortgage forbearance program. Once that ends, there could potentially be an increase of inventory from Homeowners that no longer can afford their mortgage payments. This depends on how many Homeowners have lost or changed jobs during the mortgage forbearance program. Justin Taglioli predicts that there will still be a very high Buyer demand, but the low inventory will stay. There are some new construction homes that are currently being built in the Lehigh Valley that will add to the inventory in 2022. These neighborhoods are:
Traditions Of America at Locust Valley Active Adult Community
The Cottages at Old Saucon in Upper Saucon Township
Blue Ridge Estates in Upper Saucon Township
Towns at South Mountain in Emmaus
Stone Hill Meadows in Lower Macungie
Estates at Willow Brook in North Catasauqua
Regency at Creekside Meadows in East Allen Township
Trio Fields in Lower Nazareth Township
Although those neighborhoods are being constructed, there is not much more land in the Lehigh Valley currently available to build on, says Tom Huzela. Those new neighborhoods are some of the few plots of land currently left to build on in the Valley. With such little land available and demand still being high, housing prices are expected to rise about 5.7%. Inflation is predicted to rise about 4%. These increases are both less than 2021.
Affordability
The affordability of homes will unfortunately remain a challenge throughout 2022. In 2021, home prices have increased by about 18%. This is because of demand being so high and inventory being so low. Every school district in Lehigh and Northampton counties saw an increase in average home sale prices. Compared to 2020, the largest increases in home sale prices were in East Penn (19%), Northwestern Lehigh (20.3%), Southern Lehigh (about 22%), and Catasauqua (43%). Throughout 2022, home values will slightly increase in the Lehigh Valley, but nothing near the increase of prices that we saw in 2021, says CJ Sabo.
In the 2022 Real Estate Market, the expectation is easing inflation, rising interest rates, and slower housing price appreciation. Will Nesbitt predicts that motivated Buyers will continue to set the prices until the market approaches 20% overvaluation, which means that prices will remain high. Tom Huzela predicts that there will be very little inventory, possibly less than 2021. The strong seller's market that we've seen in 2021 will stay, but the market might cool down a little with rising interest rates, says CJ Sabo.
Agent Predictions
-No new construction, there's very little land in the area available to build on.
-Very little inventory, less than 2021
I predict that the market will be very active in the spring with listings as well as Buyers looking to take advantage of the lower interest rates before the feds raise them multiple times throughout the year. I feel properties will still on average sell 5-10% higher than asking on homes priced accordingly with multiple offers. I feel later in 2022 that the market will level out as the rates will be into the high 3% to low 4% and Buyers will be discouraged feeling they missed out on buying opportunities. Home values I feel will slightly increase throughout the year in the Valley, but nothing near the increase we saw in 2021.
-Buyer demand will still be very high.
-Inventory still very low.
-Home prices start to level out
-Interest rates increase.
-Still a lot multiple offer situations
After nearly 2 years in a pandemic, I predict it'll be a year of growth, mindfulness and reconnection.
Home is where the heart is~ so people will mindfully reassess their current nest and opt to move into a home with space that best accommodates their needs for working remotely.  Also, I see a trend where people will buy homes that are more conducive for family gatherings and reconnecting with friends and loved ones.
I predict that with love, all things are possible. 🙏🏼
This will be another year for the Sellers and builders as limited supply will favor those with assets, cash and nerves of steel.  Many Buyers have already hunkered down rather than overpay. The prices will be set by motivated Buyers until the market approaches a 20% overvaluation. The last boom reached almost 25% before correcting, so 2022 prices should grow at a slower rate than 2021 as we head toward inevitable rate hikes. Buyers and their agents will be using home warranties and enhanced Homeowners' policies more as they waive inspections, so careful observation of the property's fundamental qualities will be just as vital as a well-written agreement.